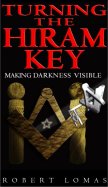 Turning The Hiram Key
Making Darkness Visible
Robert's latest book in his Quest of The Hiram Key
There have been many exposes of Freemasonry. They began in 1730 when Samuel Pritchard wrote Freemasonry Dissected. In 1952 Walton Hannah published Darkness Visible. Then in 1984 Steven Knight wrote The Brotherhood. All in all there have been over sixty accounts of Masonic ritual but they all have one thing in common. They were written with the intent of exposing an imaginary evil at the heart of Masonry. This is the first time in the 275 year history of exposing Freemasonry that a convinced Freemason has replied. In this new book Robert explains why he thinks it is a good thing to be 'Made a Mason'.
Robert has a long history in writing about Freemasonry. As well as co-authoring four best-selling books with Chris Knight he has also written a well received study of the influence of Masonic principles on modern science (The Invisible College). In this book he explains exactly how Freemasonry works as a science of spiritual self-improvement. He draws on his knowledge of ritual, his training as a scientist and much unpublished Masonic material about the philosophical underpinning of the movement.
Freemasonry has inherited a system of ancient knowledge, told in allegories and taught by symbols. This book lets you experience the mystery of that ritual and see it through the eyes of the author. It looks at how myth, symbolism and newly discovered functions of the brain, combine to create different world views. Finally it melds the science and the emotion into a vehicle to free the spirit to soar to new heights of attainment.
The well kept secret of Freemasonry is that it is a tolerant path of spiritual improvement. And that it is totally free of the superstition, political overtones and dogma which surround most religions. Robert believes there is no need to look to alien spiritual paths? Freemasonry is a western spiritual tradition whose time has come. His new book explains how it works.
---
To find out more about how Robert set about researching and writing Turning the Hiram Key visit Robert's own website.
There is also a dedicated launch website for Turning The Hiram Key has lots of downloadable content, informaion, and audio clips of Robert reading from the book. Go to www.turningthehiramkey.com.